The Sunday Grill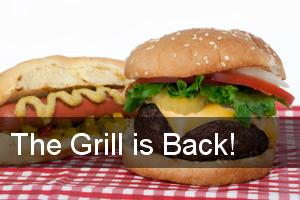 Greg Robbins
Grill Master
May 2017
Wouldn't it be great to say to the guest you brought to church, "Hey, want to grab a burger with me after the worship service?" Well, this summer we are bringing back the Sunday Grill. Every Sunday from June 4th through September 17th, "The Grill" will be fired up, so you'll be able to walk out of the sanctuary and follow your nose to the courtyard/playground area for a barbecued meal. For a donation of only $3.00 you can have a hamburger or hot dog - or both - (vegetarian options will also be available), a bag of chips, and a soda or water. First-time guests will be provided a "free lunch" ticket.
Sunday Grill is a great opportunity to invite your friends to hang out after worship and meet others at SCFBC. As part of the courtyard/playground remodel, we are experimenting with what it takes to provide an even better after-worship lunch every summer. We are looking at seating issues, shade, traffic flow, and perfecting the grilled burgers. So stay tuned for more about this exciting opportunity on Sundays, and imagine what it will be like when the new courtyard is completed and you can sit and talk to your guests while your kids are happily playing on the new playground structures. Isn't it great to live in Santa Clara where the weather is beautiful?
Stay tuned for concept drawings showing how the courtyard is going to be transformed into a beautiful, new park-like area with Sunday Grill as part of the plans.
The Celebrate!
MAY 2017
READ MORE: