Library Corner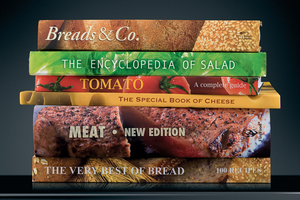 Library Team
June 2017
Burgers & Books
Starting Sunday, June 4th, the church library will be open during Sunday Grill. That's from right after church until the last burger or hot dog has been eaten - at about 1:00 p.m. or so. Every Sunday through September 10th, you and your family are welcome to come browse and find materials for your summer reading pleasure. Both doors to the library will be open, and you'll be able to see them from where you're sitting at the picnic tables.
The library has lots of Christian books, DVDs and CDs that are appropriate for all ages. Summer is also the perfect time for your kids to visit the church library, because scientists report that when students take a break from feeding their brains on a daily basis - especially during summer vacation - their school skills begin to decline. So the library is open every weekday (see "Visiting the Library," below) to help you and your children - as well as during the Sunday Grill on every Sunday between June 4th and September 10th. Stop by and we'll help you and your children find books, CDs, DVDs and more!
Currently, there are more than 4,600 items in the library's collection: Over 3,500 books, more than 800 DVDs, over 100 audio CDs, and over 150 music CDs. There's something for everyone from 1-month old to 100 years old!
Visiting the Library
You can also use the library during the week between the hours of 9:30 a.m. and 3:00 p.m. Just come to the office, and Trudy will open the library for you. Or you can also come by on Wednesday mornings from 9:30 a.m. to 11:00 a.m., while the Library Team is working, and one of us will be more than happy to read your child a story.
H.O.P.E. Fest 2017
We are happy to announce that the Library Team will be participating in H.O.P.E Fest on Sunday, August 6th. We will have a table there filled with "previously loved books" that visitors can choose from - for FREE!
We are currently seeking book donations for this event, so if you'd like to help, please let us know by emailing Jerri Cooper at jerri@scfbc.org, or you can drop off your donations at the office.
We hope to see you in the library soon!
The Celebrate!
JUNE 2017
READ MORE: