PROJECT TIMOTHY: Working Toward A New Youth Vision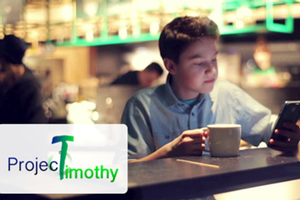 Pastor & Margareth Valui
June 2017
" Let no one despise your youth, but be an example to the believers in word, in conduct, in love, in spirit, in faith, in purity." (1 Timothy 4:12)
A biracial kid from a cross-cultural marriage, whose parents had different faiths, became an outstanding follower of Jesus and leader of the church. Timothy is an inspiring model for our youth ministry. The new Vision for our youth is a work in progress. We will be putting together a descriptive Vision framework soon. For now, we will start by asking Vision Questions.
Vision: Live Like Christ
Envisioned Future: Live (Reign) With Christ
As the Pastor and Family Life Pastor, we have been praying for the church's youth ministry since our call to SCFBC. God has been stirring our hearts about what we need to focus on. Please pray as a congregation for clarity during this new season of ministry. "Project Timothy" is a vision inspired by the model of the relationship between Paul and Timothy, and their ministries. This model provides
4 Basic Principles:
1. Conviction to Conversion
2. Inspiration to Invitation
3. Mentees to Mentors
4. Retreats to Retention
1. CONVICTION TO CONVERSATION
Paul said, "I have made it my aim to preach the gospel." (Romans 15:20) He wrote to his "son" Timothy to "Do the work of an evangelist." (Timothy 4:5) The primary ministry of the mentors and mentees at SCFBC is the same: Preach the Gospel, save the lost. Salvation is "IT." We preach, teach and pray that the miraculous work of the Holy Spirit will convict and change the hearts of the church's youth to follow Jesus. Yes! Conversion it is. We hope the Holy Spirit will convict and convert. We start with this Basic ministry. Discipling and equipping comes next.
"Therefore, if anyone is in Christ, he is a new creation; old things have passed away; behold, all things have become new." (2 Corinthians 5:1).
Vision Question: Is the Gospel preached and are youth being saved?
2. INSPIRATION TO INVITATION
Encourage the youth to invite their friends to church and to youth activities. Our task as leaders is to turn Inspiration to Invitation. Inspiration is contagious. Transformation is motivating and up-lifting. Inspiration feeds boldness. Our youth need encouragement to invite their friends to the inspiring life of Christ. God desires that His word is passed down from generation to generation. Create opportunities for invitation.
Let no one despise your youth, but be an example to the believers in word, in conduct, in love, in spirit, in faith, in purity." (1 Timothy 4:12)
Vision Question: Do we support and nurture the inspiration of our youth? Do we create opportunities for invitation?
3. MENTEES TO MENTORS
Equip the youth -As mentors and leaders, our calling is to equip our youth for the edification of the body of Christ:
"He Himself gave some to be apostles, some prophets, some evangelists, and some pastors and teachers, for the equipping of the saints for the work of ministry, for the edifying of the body of Christ." (Ephesians 4:11-12) I am for fun and entertainment, but I am more HIGH on equipping. As youth leaders, our goal is to equip and mentor the youth on:
How to share the Gospel that changed their lives

How to disciple a younger youth
How to lead a discussion group, Bible study, prayer time, etc.
(This is directly related to retention)

Vision Question: Are we equipping the mentees to become mentors?
4. RETREATS TO RETENTION
Retention
-
When our youth leave the church to go to college, or move to another city or state, are we sending them out to join a body of believers to live out their faith? Paul's letter to the church in Corinth is a testament of retention.
"For this reason I have sent Timothy to you, who is my beloved and faithful son in the Lord, who will remind you of my ways in Christ, as I teach everywhere in every church." (1 Corinthians 4:17)
Timothy, a faithful son in the Lord, will remind the church in Corinth, "My ways (Paul's) in Christ." We have 3 to 7 years (Middle School through High School) to train and equip a kid. What is our strategy for training and equipping our youth on:
How to read the Bible
How to pray
How to share their faith and share the gospel
How to lead small group/Bible study
How to serve
How to worship with the larger family
We should not rely on Retreats for Retention. We are not turning our kids into retreat specialists, youth camp veterans, or entertainment junkies, but rather to reinforce their spiritual disciplines and habits on a consistent basis. We provide skills before our youth leave High School. How do we do that?
A. Leaders Lead
At the home of the leaders and mentors, spiritual disciplines and habits - reading the Word and praying - must be a regular part of their lives. We cannot teach what we do not practice. We cannot lead when we don't have a strategy. This is not a formula, but the Christlike life provides the framework for retention (retaining their faith) when youth leave our ministry.

B. Parents Reinforce
Leaders and mentors work with parents of the youth. Retention is harder when a spiritual discipline (i.e., reading the word, praying, meditation) is not reinforced at home. Youth who read the Bible, pray, and break bread together with their parents will be more likely to serve and lead a ministry when they go out on their own. Keep the parents accountable. Do not work with youth alone. Youth ministry is a family-life ministry.

C. Worship Together
Youth ministry is an important part of our church's whole ministry. We have seen and experienced in many churches how a youth ministry functions like a separate church within the church. The youth in this kind of church leave the church without worshipping with their parents and/or other members of the church. These youth leave the church without the experience of sitting under the ministry of a pastor. Many never get to experience the rich congregational worship, prayer, breaking of the bread, and ministry of the Word. When these youth leave to go to a different city or state, or to college, they eventually pull away from the body of Christ. Youth who are segregated from the larger body of the church never fully experience the body of Christ. And some never went to church in the first place.
This is the reason why my wife, as the Family Life Pastor, and I, as the Pastor, brought the children and youth to worship within the larger body of the church in the first month of our pastorate. We do not believe in, or promote, a family and youth ministry that is segregated from the larger body of the church in any way:
"Train up a child in the way he should go, And when he is old he will not depart from it." (Proverbs 22:6)
Vision Question: Do we have a 4-year to 7-year training strategy for mentoring? Do we have a 3-year to 7-year training plan?
The Celebrate!
JUNE 2017
READ MORE: