Redwood Glen Work Day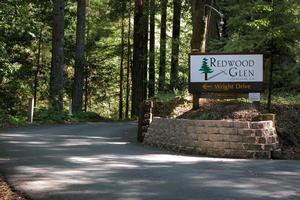 Jim Garvey
July 2017
Redwood Glen Work Day
Redwood Glen had its annual work day on Saturday, June 3rd. Jim Garvey and Ross Payne left the church at 7 a.m., and started the day at Redwood Glen with a wonderful breakfast. The tasks we accomplished throughout the day included cleaning out three 55-gallon plastic drums for the water treatment system, raking leaves and branches to clear a space about 100 feet away from two cabins in order to meet fire regulations, and cutting branches from trees to provide an accessible clearing for the installation of a 9-foot diameter, 15-foot-tall water tank (another part of Redwood Glen's eventual water system).
As always, it was a beautiful day in the redwoods, with good, hard menial work and a couple of good meals. An added benefit was that Pastor Rich and Susi were there—painting lines in parking lots, on speed bumps, and on the roads—and we got to catch up with them about their recent activities and travels.
I highly recommend putting forth the effort and time to help next year. Redwood Glen is wonderful place to spend a day, even if you're working up blisters and a sweat. And, it's for a good cause.
The Celebrate!
JULY 2017
READ MORE: