Art & Wine Festival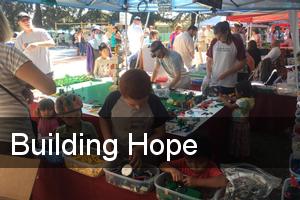 Jerry Cintas
September 2017
Every September about 50,000 people gather in Santa Clara Central Park to attend a two-day Art and Wine Festival that hosts hundreds of art vendors and features live music, food and drink booths, and various activities. This year's festival will be held on September 16th and 17th, and Santa Clara First Baptist is going to have a booth that will allow the guests who visit us the opportunity to create art in a unique way.
Our booth theme is Building Hope and will include a large table in the middle of the booth, with 60 bins full of color-sorted Lego parts around the perimeter. We will be inviting guests to build a Lego creation that represents our "Building Hope" theme. Each individual piece of art will be joined and integrated with other guests' models throughout the two days. The art sculpture in the middle of the table will grow and change as each day progresses.
We will also be giving guests individual Lego bricks that have our website printed on them. When guests visit the website, there will be a link that lets them see pictures of the final Lego creation. While they are on that page they will also see other events that SCFBC will be hosting this year.
What a great opportunity for us to get out into the community and share that SCFBC is Building Hope into the lives of people with Christ's transforming love!

The Celebrate!
SEPTEMBER 2017
READ MORE: