VIBE Youth Spaghetti Dinner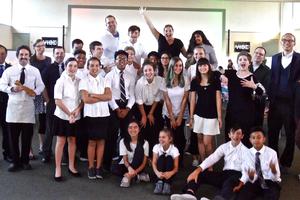 Jonathan Fung
Youth Pastor
November 2017
Last month, the VIBE Youth Group hosted its annual fundraiser, which helped reduce the cost for the winter retreat at Sugar Pine Christian Camp in January 2018. Part of the proceeds were also donated to the Santa Clara High School Girls Basketball Team for their Hurricane Harvey Relief Fundraiser, which will help Stafford High School in Texas.
The VIBE Youth Group served 140 guests at Giovani in Cucina (Youth in the Kitchen)! The intimate ambiance and the youths' funny rendition of That's Amore throughout the evening, combined with Chef Gregorio's special tomato sauce and tasty meatballs, received rave reviews from all of our guests. And Pepe was very attentive to every guest as he sprinkled pepper not only on the salad but on the spumoni, too.
The highlight of the evening was the lovely Italian opera sung by Camille Cintas. This year, guests were able to bid on silent auction goods and services throughout the evening. Door prizes were also raffled off to add to the excitement.
I want to give a special "Thank you!" to our youth mentors, church staff, and Chef Gregorio—with Christine and Mindy in the kitchen—for their commitment to our youth.
Special thanks, too, to Camille Cintas for generously sharing her talent, Linda Tonel for donating and wrapping silent auction baskets, and Lisa Schwab for donating a $100 massage from Nilou Day Spa in Saratoga. Also, thanks to Terri Pilcher, Trudy Kroll, Greg Robbins and Allison Fung for their gift basket donations, and to Linda Tonel and William Gauspohl for donating gift cards. The youth also greatly appreciate Pastors Valui, Margareth & Jonathan, as well as Jerry and Sharon, Greg, Kimberly & Danijela, and Derek & Charis for auctioning their time for a fun event for the winners.
The VIBE Youth Group also would like to especially thank everyone who supported this event by purchasing tickets, the silent auction goods, and the services. We raised $2,700 and we thank God, who is always faithful and continues to bless our youth ministry!