Note From the Board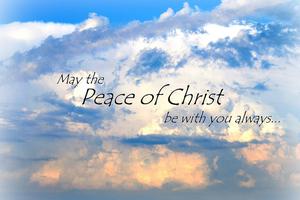 Nicole Wiesen
Board Member
December 2017
In this season of celebrating the birth of our Lord Jesus Christ, I pray that we may find peace in Christ and with Christ. I pray for peace for our country and leaders. I pray for peace and reconciliation in our own families, with our spouses, with friends, co-workers, and our neighbors. I pray that we as a church can go out and be peacemakers and be the aroma of Christ to all whom we encounter. I pray that we each fix our eyes on Christ, who is the Prince of Peace.
"But when the kindness and love of God our Savior appeared, He saved us, not because of righteous things we had done, but because of His mercy. He saved us through the washing of rebirth and renewal by the Holy Spirit, whom He poured out on us generously through Jesus Christ our Savior." (Titus 3:4-6)
The Lord's covenant of peace will never be removed. He will never fail us or forsake us. As we learn to trust in Him, He will fill us with all joy and peace, which surpass all understanding, to guard our hearts and minds in Christ, so that no matter what circumstances we are facing now in our lives, we can still rejoice and claim God's promises.
"Peace I leave with you; my peace I give you. I do not give to you as the world gives. Do not let your hearts be troubled and do not be afraid." (John 14:27)
Our difficult circumstances force us to be aware of our human limitations. Hopefully it causes us to depend on God for strength and perseverance. God wants us to lean on Him and make space for where only He can dwell within us and move any mountain we are facing. Whether it is loneliness, grief, addiction, unhealthy relationships, financial hardships, marital problems, work stress, health issues, or spiritual struggles, He has victory over all of it. God doesn't need perfect or successful people, just repentant people, who can humbly come before Him and ask for Him to be our Redeemer and our Savior and be Lord over all parts of our lives.
May you be able to receive the gift of peace that Christ wants to pour into you during this season. He's waiting for each of us to come to Him, just as we are. Yes, come to Jesus just as you are. What do you need to surrender to God? Or how can you be a peacemaker in the world today? He is close to the brokenhearted and saves those who are crushed in spirit (Psalm 34:18). Pray and ask God to guide you. He is our daily bread. He is enough provision.
God bless everyone at SCFBC. "Joy to the World! The Lord has come. Let earth receive her King. Let every heart prepare Him room."
In Christ,
Nicole Wiesen