Redwood Glen Summer Camps 2018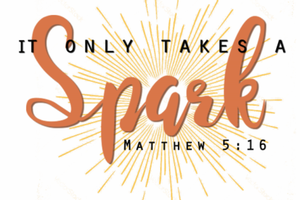 Staff
March 2018
"Here's another way to put it: You're here to be light, bringing out the God-colors in the world. God is not a secret to be kept. We're going public with this, as public as a city on a hill. If I make you light-bearers, do you think I'm going to hide you under a bucket? No, I'm putting you on a light stand. Now that I've put you there on a hilltop, on a light stand—shine! Keep open house; be generous with your lives. By opening up to others, you'll prompt people to open up to God, this generous Father in heaven." — Matthew 5:14-16 (The Message)
Here at camp during the past year, we've thought a lot about fire. The awesome and destructive power of fire was on full display this past fall. Unfortunately, we have a number of sister camps that were impacted by the fires. But while this power isn't always destructive – it powers many of our cars and has even taken humankind to the moon – it is most assuredly always magnificent in power. Humanity has always been fascinated by this power, and perhaps the most amazing quality of this power is that it always starts with just one spark.
And here we have arrived at this year's theme – "It only takes a spark." A spark is a meager thing. Fire, in its infancy, is so very fragile. If you have ever attempted to start a fire without a match, you know this. It takes hard work to nurse a fire to health; and even then, there are many perils and dangers along the way – if the wood is too wet, or there is rain, or it's too windy – your flame is liable to go out. But from this humble beginning – just a spark – proceeds all the strength a fire can muster.
In Matthew 5:14-16, there is one special quality that Jesus choose to focus on regarding fire, and that is light. Other than fire and the sun, the original hearers of the "Sermon on the Mount" had only oil lamps as a source of light. This small flame was their sole source for casting out the darkness, just as it was for most generations throughout history. Yet, when one flame is combined with the light of another flame, and then another, and another, etc., it can provide light for the entire world to see. And when each of us becomes like that light, we become like a city on a hill – "a million lights to see."
This year, we aim for all campers to walk away carrying their lights just a little bit higher – for all their friends and families to see. And when their light is combined with that of their home churches, how brilliantly will they shine in their communities? In their schools? Our goal is to send the children and youth back into the world with the confidence and tools to shine more brightly; to experience the power of God much more in their lives; and to reflect onto others the ultimate flame that lights all our lives – the Son.
Will you join us this year? Will you help us ignite a spark in the Bay Area? We invite you to join us on this journey…
Summer Camps 2018 Registration Now Open
Adventure Camp—June 18-23...Grades 4-6*
Children's Music & Drama Camp—June 25-30...Grades 2-5*
Senior High Camp—June 25-30...Grades 9-12*
Youth Music & Drama Camp—July 9-14...Grades 6-12*
Discovery Camp—July 9-14...Grades 2-5*
Pioneer Camp—July 15-18...Grades 1-4*
Middle School Encounter Camp—July 15-20...Grades 6-8*
*Students will have completed the grades listed here by this spring.