Connecting at SCFBC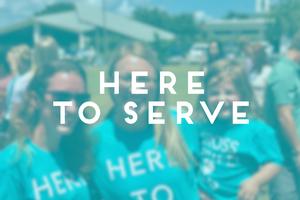 Connection Team
November 2019
Here To Serve
On Sunday, October 27th, Dr. Bill Hoyt and his wife Gwyn received "Here to Serve" towels for their work contributing to the success of SCFBC's reorganization and restructuring a few years ago. They have also continued to help us as we've made our way forward. A very grateful "Thank You!" to Dr. and Mrs. Hoyt!
Welcome New Members
We will soon be welcoming the following six people as new members of SCFBC: Cindy Cahalig, Krishna and Sushmita Chaitanya, Dupe Fajembola, and Malkeed Singh and Rupinder Singh. Each will receive a "Here To Serve" towel at an upcoming Sunday service.
Special Invitation for Bethlehem Greeters to Attend "GodTrack"
Pastor Valui invites everyone who wants to be a greeter of guests at Bethlehem to attend his GodTrack group, which meets in his office on Sunday mornings from 9:15 a.m. to 10:15 a.m. Everyone will receive training on how to greet, engage and connect with our Bethlehem guests more effectively. GodTrack meetings that will focus on greeting guests at Bethlehem begin Sunday, November 3rd, and continue through Sunday, December 8th. Everyone is invited!
---
The Celebrate! - NOVEMBER 2019
READ MORE: