Giovani in Cucina (Youth in the Kitchen)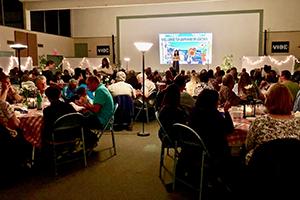 Jonathan Fung
Youth Pastor
November 2019
The VIBE youth spaghetti dinner fundraiser was a huge success! A long line of guests wrapped down the walkway to the Fellowship Hall as they waited anxiously to enter the posh Giovani in Cucina (Youth in the Kitchen) restaurant on October 12th for a delicious Italian dinner and wonderful entertainment.
We exceeded our goal, raising over $3,000 thanks to the generosity of our church. Twenty youth servers worked very hard to serve 145 guests! Bravo to Camille Cintas for performing beautiful Italian arias, and Annie Chen for serenading our guests with the violin. These performances, along with Pepe the Pepper Boy sprinkling pepper on everything from salads to spumoni, were the highlights of the evening's entertainment.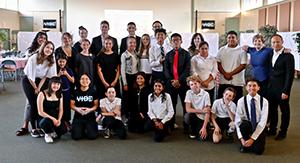 All 12 of the donated baskets were sold at our silent auction, and many bids exceeded the initial value of the baskets' items. Thank you to Lisa Robinson, Caron Thor, Derek Yan, Trudy Kroll,the Fung family, Jane Yee, Deana Wynne, and William Gauspohl for providing the items for the baskets. And special thanks to our donors, the San Jose Earthquakes, the San Jose Giants, In-N-Out Burger, and Petroglyphs.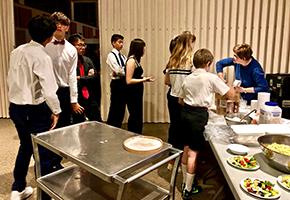 And a special shout out to all the youth and their friends who served the meals, the parents who supported the event, and the amazing Chef Gregoire and his kitchen crew: Christine, Paul and Harvey. And we could not have pulled this off without our awesome youth mentors: Allison, Stacy, Evelyn, Derek, Dan, William, Matt, and Kevin, who worked hard to make the night a success. Lastly, thanks to Pastors Wungreiso and Margareth, and our wonderful church staff for their support.
All proceeds from the dinner will assist VIBE youth by reducing the cost of the winter retreat in January. The $300 raised from the raffle ticket sales will go to "The Shoe That Grows" outreach to help children in Uganda.
---
The Celebrate! - NOVEMBER 2019
READ MORE: