Library Corner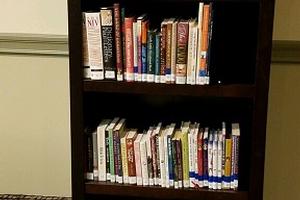 Library Team
November 2019
The Challenge to Read More
A couple of weeks ago, Pastor Valui challenged us to read more and become life-long learners. We just want to remind you that these are two of the main reasons why the church has such a wonderful library. Our collection of over 4,000 items includes a great selection of Christian books, family-friendly DVDs, a wide variety of Bibles and reference books, and materials just for kids and teens. Books by both men and women authors include novels, reference books, biographies, autobiographies, and more. The Teen Section, which has almost doubled in the last year, offers a wide variety of subjects. Everyone of all ages will always find something to enjoy!
As you may have noticed, the Book Nook located in the lobby is changing. Thanks to a generous benefactor who donated a new bookcase, there are now more books on display for checkout. It's also much easier to see the titles of the books and DVDs. This month's selection of materials in the Book Nook focuses on Christmas, so that you can begin to experience the joy and spirit of Christmas now!
Happy Holidays to all of you and your loved ones from the Library Team!
---
The Celebrate! - NOVEMBER 2019
READ MORE: