Men's Camping Trip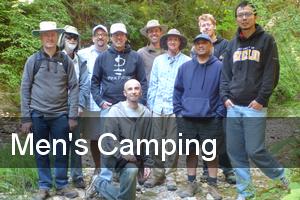 Jerry Cintas
July 2014
July 25th-27th the men are once again coming together to battle the outdoors. For the past five years we have set up our tents and rolled out the sleeping bags to camp under the shady expanse of a beautiful redwood grove. Located a ways below the Redwood Glen Conference Center in Loma Mar is a rustic area called Indian Point. Secluded on a hillside near Pescadero Creek, the only sounds are the blue jays and squirrels that come into the area to check out who is visiting their home.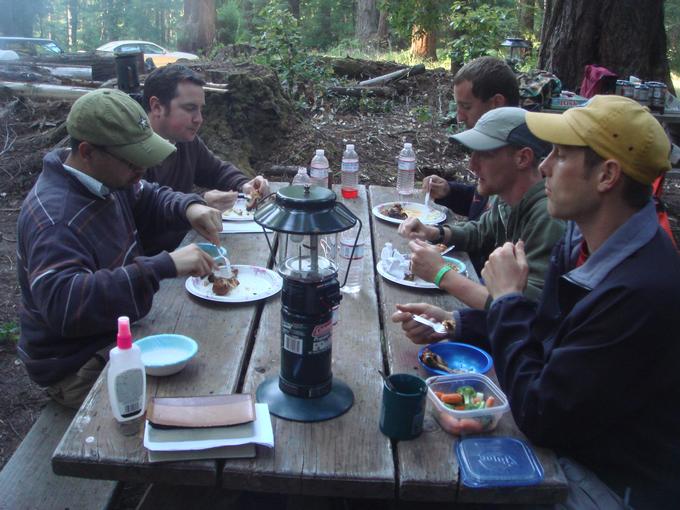 When men get together, it is all about creating fun out of nothing. Great times have been had sitting around the campfire and telling stories, or trying to cook meat over the fire without burning your hands. Sometimes we bring out an old croquet ball and mallet set and set up a challenging course through fallen trees and dirt mounds to see who can finish first. There are also a couple of nice picnic tables in the area that we love to put together and break out the board games or cards and see who has the best gaming skills. Checking out the creek and seeing who can skip the best rock or hiking around the area are other fun activities we have done in the past.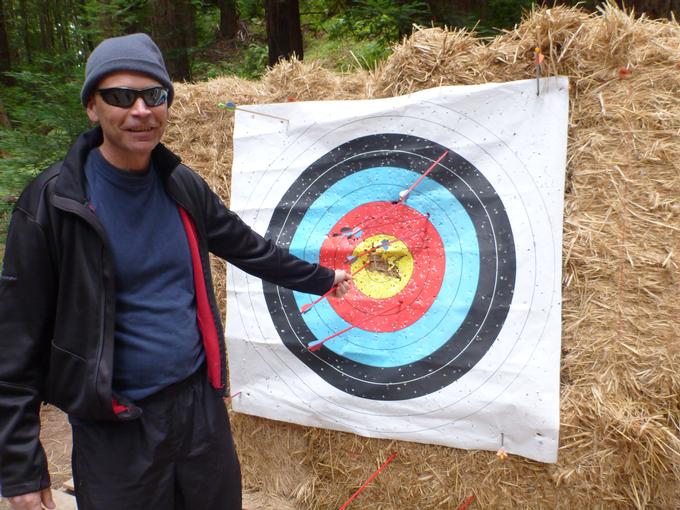 The last couple of years we have hiked up the hill and used Redwood Glen's archery range. After some practice rounds, the men compete head to head to see who can score the highest number of points using basic re-curve bows. When not use to aiming an arrow one can find it tricky, but after 10 (or so) shots it is pretty easy to hit the target and sometimes even hit that lucky bullseye.
The men's camping trip is about getting to know other men in the church better, sharing God's beautiful landscape, and reflecting on our purpose as men. Our past speakers have been great at helping us explore who we are and what God's purpose is for our lives.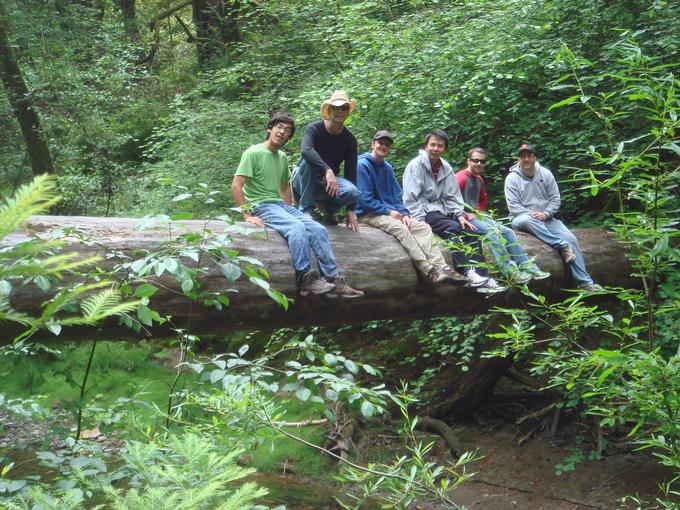 If you are a male 18 years or older, consider putting together some camping gear and getting away from the busyness of the Santa Clara Valley to relax in a camping chair below the redwoods staring up at the clear blue sky. And if you have been before, make this the year you invite a friend. The cost is $50 payable on July 27th. We carpool up to the site after work around 6:00pm (or later if necessary) and return home on Sunday morning after breakfast, usually arriving in time for worship at SCFBC.
To sign up or get more information, contact Jerry Cintas (jerry@scfbc.org or 408-390-4696).