News on the SPEEDway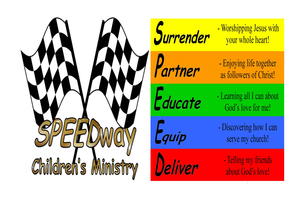 Susi Reaves
Interim Director of SPEEDway Children's Ministry
March 2015
NURSERY RENOVATION
The time as finally arrived!! After months of research and planning, the renovation of the SCFBC Nursery will begin in early March. During the renovation time, the Nursery will be moved to Room 21 located on the playground side of the Sanctuary building. Thanks to Nursery Team Leader, Mary Wong, and Director of Property, Jerry Cintas, for their many hours of planning for the important upgrade to our facilities. Linda Sweet has joined the team to provide her creative décor insights. Be sure to check out the Campus Improvements article in this newsletter that shows the floor plan for the new and improved SPEEDway Nursery.

NEW KIDS WORSHIP SERIES -- "WORTHWHILE WORSHIP"
What makes worship worthwhile to God? Jesus had a lot to say about what brings God glory, and his first followers lived that out as an example for us. At SPEEDway Kids Worship we'll spend the next three months learning about how to be better worshipers of the God who made us and loves us.
TEAM FOCUS -- PRESCHOOL TEAM AND SNACK ZONE TEAM
Our Preschool Team is led by Pat Graham . Pat and her team teach, play with and love on our SPEEDway kids ages 3-5. The first hour (9:00am) teachers every Sunday are Helena Evora and Julie Pozzi. Kids Worship teachers Jean Miller and Pat are joined by youth helpers Ananya Chilakamarthi and Rachel Erling and serve two Sundays each month. Our Preschoolers are blessed to have such amazing people who love to share God's love with them every Sunday.
Lisa Robinson leads our Kids Worship Snack Zone Team. Our Bible lessons each Sunday are reinforced by the Snack Zone. Lisa prepares for a snack each Sunday that one of her team members uses to reiterate the day's lesson presented in our large group time. Snack Zone team members are Bonnie Brenner, MaryAnn Fairall, Melinda Lutz and Caron Thor.
There is always a place to serve at SPEEDway Children's Ministry. If you are interested in sharing God's love with our kids directly or serve "behind the scenes" please contact me at susi@scfbc.org or call the church office at 408-241-7635.