Praying And Fasting For Vision 2016
Dr. Wungreiso Valui
Senior Pastor
January 2016
I ate no choice food; no meat or wine touched my lips; and I used no lotions at all until the three weeks were over. (Daniel 10:3 NIV)
When we fast, do not focus on food but on God. Shift your mind from food to God. Read and meditate on God's word. Fasting and praying in His Word will help us to focus on God.
We fast and pray for God's vision. The church needs vision. Without vision we will perish. We need clarity. We will fast and pray and ask the Holy Spirit to lead and guide our church to accomplish His work.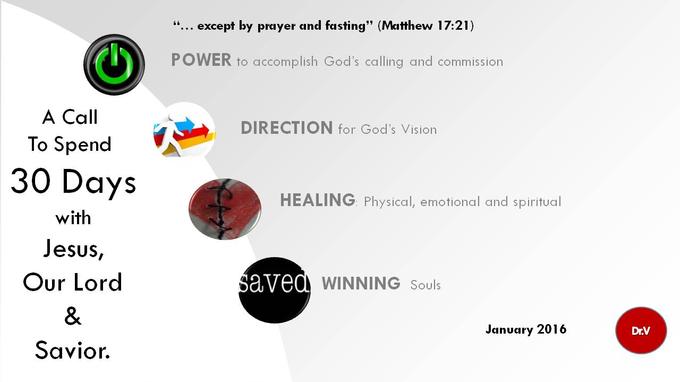 So why do we need to fast?
Jesus Fasted: Jesus said we will fast.
For forty days, being tempted by the devil. And he ate nothing during those days. And when they were ended, he was hungry.
Jesus Said When He Is Gone We Will Fast (Luke 4:2)
Then the disciples of John came to Him, saying, "Why do we and the Pharisees fast often, but Your disciples do not fast?" And Jesus said to them, "Can the friends of the bridegroom mourn as long as the bridegroom is with them? But the days will come when the bridegroom will be taken away from them, and then they will fast. (Matthew 9:14-15)
Jesus Taught Us How To Fast
"And when you fast, do not look gloomy like the hypocrites, for they disfigure their faces that their fasting may be seen by others. Truly, I say to you, they have received their reward. But when you fast, anoint your head and wash your face, that your fasting may not be seen by others but by your Father who is in secret. And your Father who sees in secret will reward you." ( Matthew 6:16-18)
Jesus said "Nothing but prayer and fasting"
Need Faith To Overcome Enemy
Then one of the crowd answered and said, "Teacher, I brought You my son, who has a mute spirit. "And wherever it seizes him, it throws him down; he foams at the mouth, gnashes his teeth, and becomes rigid. So I spoke to Your disciples, that they should cast it out, but they could not." And when He had come into the house, His disciples asked Him privately, "Why could we not cast it out?" So He said to them, "This kind can come out by nothing but prayer and fasting" (Mark 9:17,18 & 28,29)
Need Faith To Overthrow Mountain
"For assuredly, I say to you, whoever says to this mountain, 'Be removed and be cast into the sea,' and does not doubt in his heart, but believes that those things he says will be done, he will have whatever he says. (Mark 11:23)
Jesus said watch and pray
Prayer Alerts Us From The Enemy
Watch and pray that you may not enter into temptation. The spirit indeed is willing, but the flesh is weak" (Matthew 26:41).
Prayer Strengthens Us Against Temptation
For in that He Himself has suffered, being tempted, He is able to aid those who are tempted (Hebrews 2:18).
Jesus was led by the Holy Spirit to fast and pray
Fasting and Praying for Spirit-Driven Ministry
Then Jesus, being filled with the Holy Spirit, returned from the Jordan and was led by the Spirit into the wilderness, being tempted for forty days by the devil. And in those days He ate nothing, and afterward, when they had ended, He was hungry (Luke 4:1-2)
Fasting And Praying for Spirit-Anointed Ministry
Then Jesus returned in the power of the Spirit to Galilee, and news of Him went out through all the surrounding region. And He taught in their synagogues, being glorified by all (Luke 4:14-15).
Fasting And Praying for Spirit-Filled Leadership
While they were worshiping the Lord and fasting, the Holy Spirit said, "Set apart for me Barnabas and Saul for the work to which I have called them." Then after fasting and praying they laid their hands on them and sent them off (Acts 13:2).
And when they had appointed elders for them in every church, with prayer and fasting they committed them to the Lord in whom they had believed ( Acts 14:23)
I encourage you to fast and pray with me and my wife. Set aside the month of January for "Daniel's Fast" to listen to God.
1. Eat no food you consider delicacies
2. Eat no meat
3. Drink no wine
May God speak to us and bring unity.
The Celebrate!
JANUARY 2016
READ MORE: