Kid Zone Christmas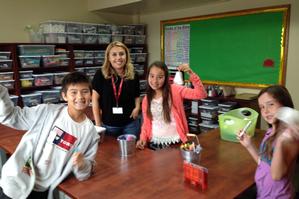 Kirsten McGaffee
Children's Ministry Director
December 2016
What better time could there be to honor and love our children than the time when the King of the Universe was Himself a little child? The Christmas season is upon us in Kid Zone and we have many special events coming up!
Our Bake Sale is happening on Sunday, December 4th, both before and after Sunday service. All proceeds made during this fundraiser are going toward new tables for one of our Elementary Sunday School rooms! This room is in need of an upgrade and I believe we can raise enough money to make all of the changes that need to be done. If you have not seen our new craft room tables and paint job, please stop by sometime and check it out. It's located in the Fellowship Hall! We are so thankful to Jerry Cintas for putting in the hard work and making this room bright and cheerful for our children.
The Kid Zone Christmas Party is happening on Saturday, December 17th, from 12:00 noon to 2:00 p.m. in the Fellowship Hall! The kids have been doing great this school year in Kid Zone and they truly deserve this party! There will be games, food, fellowship and, of course, tons of fun! If your child is in Kid Zone or in our Pre-K Class, then we hope that you and your child can make it to this festive party!
Just a heads-up for parents: there will be NO SUNDAY SCHOOL CLASSES on December 25th and January 1st. We want to give our volunteers who work so hard every weekend a little R&R for the holidays! We will be having Kid Zone during service on Christmas, but will not have Kid Zone on January 1st.
The Celebrate!
DECEMBER 2016
READ MORE: