Harvest 2017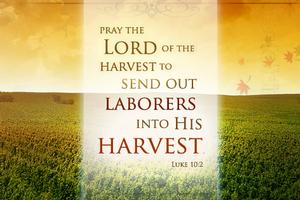 Wungreiso Valui
January 2017
HARVEST 2017: 31 DAYS OF PRAYER FOR GOD'S HARVEST January 1-31, 2017
4 Reasons To Pray For A Greater Harvest
"Then He said to His disciples, "The harvest truly is plentiful, but the laborers are few. Therefore pray the Lord of the harvest to send out laborers into His harvest" (Matthew 9:37-38).
I am calling on the members of our church to a life of "Daring Faith" to boldly ask for a "Greater Harvest" in 2017. Let our faith be unshakable and our hearts be moved with compassion for the weary and scattered without hope.
FOUR REASONS
I. The Harvest Is Plentiful
Jesus said the harvest is truly plentiful. People are perishing for lack of salvation not for lack of a Savior. We have no excuse for lack of opportunity. The harvest is plentiful.
II. The Laborers Are Few
For a plentiful harvest, we need plentiful laborers.
III. Pray to The Lord of Harvest
Our task is to pray to the Lord of Harvest for more laborers. We do not get to choose and select the laborers for a plentiful harvest. Jesus instructed His disciples to pray.
IV. Send Out Laborers Into His Harvest
The Lord sends out the laborers into His harvest. The church prays and God sends.
FOUR OPTIONS
I. Observe Daniel's fast for 31 days. Abstain from meat, wine and what you consider delicacies for 31 days and commit to pray
II. Fast for a week or two but still commit to pray for 31 days
III. Fast for a day and still commit to pray for 31 days
IV. Commit to pray for 1 day or 31 days without fasting
The 31 days of prayer for God's harvest is not to show off how righteous and spiritual we are. It is to show our urgency to reach others with the gospel of Jesus. Let us humbly before God with a daring and unshakable faith pray to the Lord of Harvest for a greater harvest in 2017.
---