Library Corner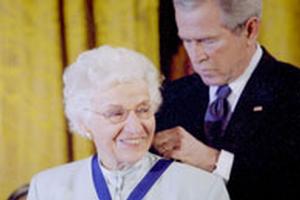 Jerri Cooper
January 2017
Library Corner
Recently, I went to a 100th birthday celebration for Ruth Colvin, a woman who has a passion for literacy. In 1962, at the age of 50, realizing that her city had 11,000 people functioning at the lowest level of literacy, she founded Literacy Volunteers, Inc., (now called ProLiteracy Worldwide) in Syracuse, NY. She then expanded the program throughout the United States, and then to the world. (You can read more about Ruth Colvin on the Internet.) She ran the non-profit organization out of her basement for years!
She has been honored by both President Reagan, with the President's Volunteer Action Award in 1987, and President George W. Bush, with the Presidential Medal of Freedom in 2006, and she was inducted into the National Women's Hall of Fame in 1991. Somehow, I don't believe awards are her goal. Instead, I think her goal is simply to help people learn to read and communicate.
I had the honor of meeting Ruth earlier this year at the "In Our Own Words" celebration for the learners of "READ Santa Clara," and she was still going strong. Her mind is active and she still exercises daily. At the recent 100th birthday celebration, "READ Santa Clara" was kind enough to give us each a copy her book she wrote about her and her husband's adventures to promote and encourage literacy around the world. Off the Beaten Path: Stories of People Around the World, by Ruth Johnson Colvin (2011), will be processed into the library's collection so that you can also read about how she is following her passion and helping the world.
Ruth wants people to know how other countries over the years have a need for literacy, especially for children and for women. Literacy raises the standard of living for an entire family or village as more people learn how to read and process numbers.
In her book, Ruth meets people from all walks of life - a holy man in India, a banned leader and a revolutionary in the apartheid system in South Africa, lepers in India and Madagascar, people from Communist China and Cambodia, and from many other places. She believes education is the key to facilitating communication and understanding among people around the world.*
Please think of Ruth's story as an inspiration for us - every little bit helps - each one of us can make a difference. This is why the Library Team works each week to find and catalog materials for the library, so that the church will have materials which inspire us and our children to follow our passion and our dream to make our community, our state, and our world a better place as we learn from each other.
*From the AbeBooks website synopsis.
LibraryWorld Search for iPhone: I hope you are having success using either the on-line SCFBC Library look-up or the LibraryWorld Search for iPhone app. You can access the SCFBC Library database from the Website. Click on the Library block; then, on the next screen, click on the "Search Here" block. If you know the name - or author - of the book, DVD or CD you're looking for you can enter it into the blue-rimmed box and click on the blue box to see if it is available in the SCFBC Library. We process new books, DVDs and CDs into the library each week.
Thank you for enjoying the Library! You are welcome to come to the library anytime the office is open - Monday through Friday from 9:30 a.m. to 3:30 p.m., or join us at 10 a.m. on Wednesday mornings when the Library Team is working.
---