Library Corner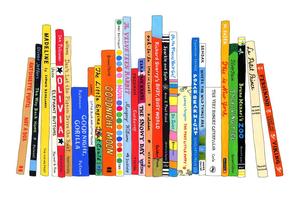 Jerri Cooper
Team Library
February 2018
Team Library is currently in the process of adding new books to the library's collection, while removing older books that have not been checked-out for several years. I find that removing books from the library is our saddest chore, because we always want to offer as many books as possible for SCFBC readers. But, as you probably know, sometimes you just have to clean out the old to make room for the new!
AND, our task of removing books is now much more acceptable because we'll save them to give away – FREE! – at SCFBC's "HOPE Silicon Valley" event later this year. Last year, it was a pleasure to participate in the HOPE Silicon Valley ministry: We started the day with 29 boxes of free books/materials, and ended up giving away everything in 17 of them! We're looking forward to giving away even more at this year's event.
I am also taking this opportunity to ask that if you have slightly used books, DVD, CDs or magazines you're planning to get rid of, please consider donating them to the church library. We'll then pass them on to adults and children so they can benefit from having their own books. We're looking for all kinds of books: children's, Christian, cookbooks, novels, travel, reference, history, etc. You can also donate CDs and/or DVDs.
At HOPE Silicon Valley in August, it was such a joy to hear kids say, as they put books in their new backpacks, "You mean they're really FREE?" I know it seems early to be collecting books and CDs/DVDs for HOPE Silicon Valley 2018, but the earlier the better, I always say! Of course, if you'd rather wait until April, and make your donations for the spring SCFBC Rummage sale, that's fine, too.
Thank you so much for donating to the library, to the rummage sale, and to the HOPE Silicon Vally outreach event. And I especially thank you for blessing others with your book donations.
As always, you can find all of SCFBC's library resources in Rooms 19 and 20, or in the lobby's Book Nook. You can visit the library between 9:30 a.m. and 3:30 p.m., Monday through Friday. Just come to the church office, and Trudy will open the library for you.