Fall Sermon Series: Making Disciples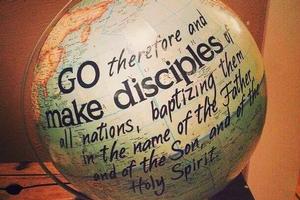 Dr. Wungreiso Valui
Senior Pastor
September 2018
"Go therefore and make disciples of all the nations, baptizing them in the name of the Father and of the Son and of the Holy Spirit, teaching them to observe all things that I have commanded you; and lo, I am with you always, even to the end of the age. Amen." – Matthew 28:19-20
We will study the life and ministry of Paul, as the models for engaging today's culture, using the Gospel as he presents it in the Book of Acts. In a rapidly changing world, how can we engage today's ever-changing culture with the never-changing Gospel?
For more about this challenge, please visit the Life Group page at https://www.scfbc.org/lg.
CONVERSION AND THEN DISCIPLESHIP
I recently introduced two men from a Hindu background to Jesus. I told them about the life, death, and resurrection of Jesus in about thirty minutes. I met the first man on a Sunday morning, and the other on Monday. At the end of our conversations, both of them wanted to become a follower of Jesus. Is my job done? No! Discipleship begins. They had a conversion experience. Now, conversion is not a bad word. Every follower of Jesus began with a conversion, which means "to turn, or to turn around." Turning around and following Jesus is the beginning of a lifelong journey with Christ.
WHY THE "MAKING DISCIPLES" SERIES?
In order to fulfill the commandment of Jesus to make disciples we must first become disciples. We cannot make disciples of Christ until we become His disciple. My prayer and hope for Santa Clara First Baptist Church are that we are "Disciples of Christ making disciples of Christ." Know this: "The zeal for making disciples does not grow out of superior spirituality and theological scholarship, but out of love." –Wungreiso Valui
ARE YOU A DISCIPLE OR JUST A CHRISTIAN?
Disciple, mathetes (math-ay-tes') in Greek, means a learner, a pupil, a follower. As a student learns from the teacher, a disciple of Jesus follows and learns from Him. A disciple learns to live like Jesus, and to lead like Jesus.
Jesus said, "Go and make disciples." As a follower of Jesus, you are commissioned and commanded to:
Make Disciples of Christ, Not Just Converts
Make Disciples of Christ. Not of a Particular Denomination
Make Disciples of Christ, Not of the Church
In his book, The Continuing Conversion Of The Church, Darrell L. Guder wrote, "The church's very nature is missionary." The meaning of mission must be dealt with when we consider God's actions, purposes, promises, and faithfulness. God cannot be restricted to what has been, or what is, happening in Western cultural Christianity. God's work is universal in its intention and impact, and our task is to grapple theologically with that universality.
The church is facing a major challenge in communicating the Gospel, and we have responded to the challenge by controlling the Gospel and often reducing it to a manageable proportion. The church has taught that discipleship is optional – and has made it optional. We love the blood of Jesus and its cleansing and renewable power, but we have disregarded Jesus' command to "make disciples." We want to be Christian without discipleship.
DISCIPLESHIP
Discipleship is the next step in discovering the purpose of life, in reaching a deeper knowledge of God, and in growing spiritually mature. This is true discipleship and spiritual formation.

A disciple learns to live like Jesus and becomes a leader who will learn to lead like Jesus.
A disciple seeks intimacy with God and becomes a leader to influence people.
Paul first became a disciple of Jesus. Then he followed the command of Jesus and made others disciples of Christ. Then he also became a leader who equipped others to make disciples of Jesus. In this series, we will follow Paul on his three missionary journeys. One of the reasons why Paul had such a great impact was because the leaders he appointed for the churches that he planted were from where he was doing his preaching. He also did not baptize or appoint leaders who were uninstructed in the word of God, or who were unrecognized by the local church.
I am so excited and on fire about this series, which will begin on Sunday, September 16, 2018.
---
The Celebrate! - SEPTEMBER 2018
READ MORE: