Tech Team
These are the people behind the scenes controlling the sound levels, lighting, videos, worship slides, and announcement slides. Contact Jerry Cintas as jerry@scfbc.org for getting trained and scheduled onto the team.
---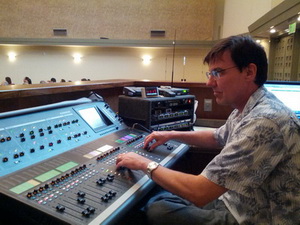 Sound Team
The sound board is the most involved piece of equipment in the sanctuary and requires an operator who is very attentive, has a good ear for sound, and is quick on his feet. A 27 fader multi-layer digital mixer is used to mix all of the on-stage instruments and microphones. 12 Channels of UHF wireless mics are used for dramas, worship team, and the pastors. A line array with a sub-woofer disburse the sound into the 300 seat auditorium.
---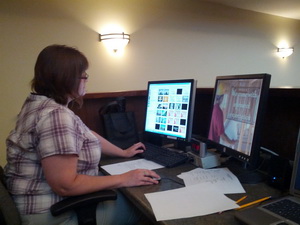 Worship/Sermon Slides
Each week we have an operator type in and run the worship song projections for the service. Most songs are already stored on our computer, but occasionally new slides have to be created. We use ProPresenter 6 on a computer with two monitors to run the slides. The second monitor lets us look ahead at thumbnail images of each slide, and allows the operator to jump around between slides. The sermon slides are also inserted into the middle of the presentation using PowerPoint.
---
Announcement Slides
Each week a new set of slides are made to advertise upcoming events at SCFBC. A rotation of slides are shown before and after each service and are created and run in PowerPoint. We are always looking for creative team members with graphic design skills to help make these slides.
---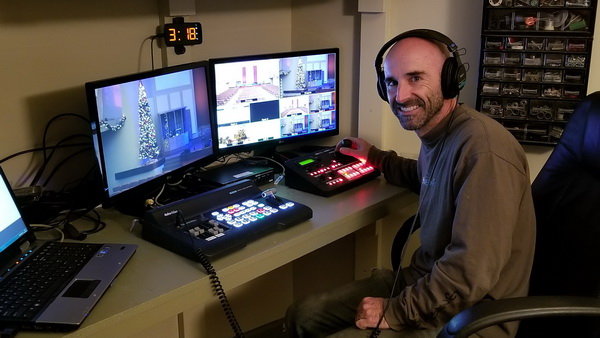 Streaming Operator
We Facebook and YouTube Live stream the service every week. The operator remotely controls the two rear robotic cameras to setup the video shots and then switches in the appropriate cameras or Worship/Sermon slides out to the stream. We also have a second sound engineer who re-mixes the audio for the stream from a separate sound board.