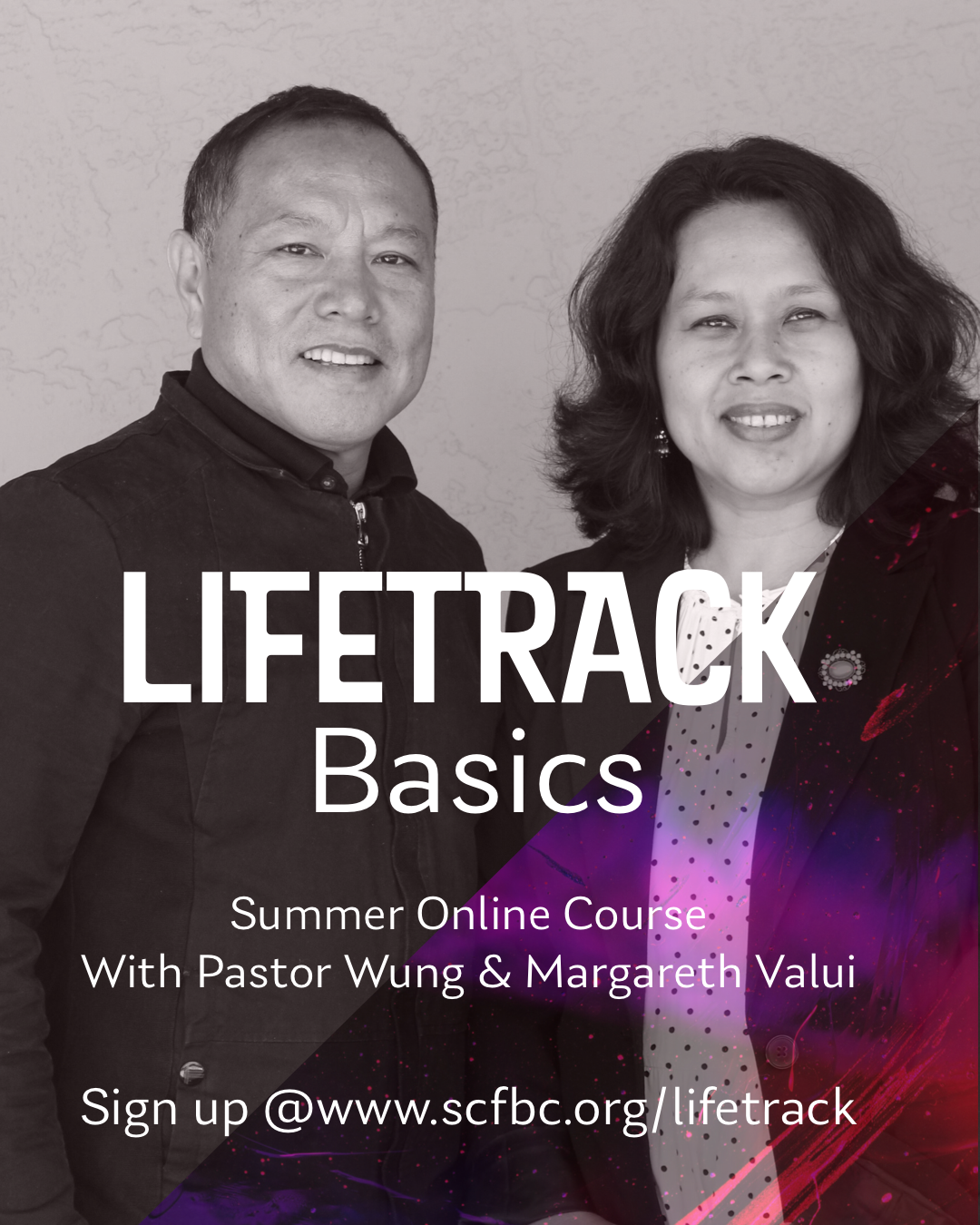 Have you ever wondered whether there is a God? Or why Christians believe there is, and that He sent His Son to give us eternal life? You also may have thought about whether you should join a church. And why becoming a church member matters.
LifeTrack, designed by Senior Pastor Wung Valui, is a step-by-step approach to help you understand what it means to be a follower of Christ, and how to walk with Him each day.
LifeTrack will help you discover Who God is, Why you exist, What God's plan and purpose are for your life, and How to live a meaningful and purposeful life. LifeTrack will help you get on track with God, His Church, and His Mission for you.
Register for the online course at the bottom of this page.
Track One: Discover – Relationship
This session teaches how you can discover who God is, your purpose in life, and what your talents and gifts are. Track One also focuses on developing life-giving relationships, and learning about the mission and vision at SCFBC.
1.1 Discover God
1.2 Discover the God-Given Purpose for Your Life
1.3 Discover your God-Given Gifts
1.4 Discover the God-Given Purpose of the Church

Track Two: Direction – Fellowship
This session sets you on the path to encounter God, to connect with others, and to begin to develop a meaningful and purposeful life by participating in SCFBC Life Groups.
2.1 Direction on how to become a child of God
2.2 Direction for living a life of true purpose and calling
2.3 Direction for using your gifts
2.4 Direction on how to belong to the Body of Christ and His Church

Track Three: Disciple – Discipleship
This session explores God's design on how you can grow to serve others, to disciple others, and to lead others to encounter our life-transforming God through participating in SCFBC Life Groups and Ministries.
3.1 Becoming a Disciple of Christ
3.2 Making Disciples of Christ
3.3 Teaching others how to use their God-Given Gifts
3.4 Leading others in the Church

Track Four: Dedication – Stewardship
This session concludes LifeTrack by showing you how you can make a positive and life-giving difference in your church, community, and the world.
4.1 Giving To God
4.2 Giving To Self
4.3 Giving To Others
4.4 Giving To The Church

Join Us!
We hope you will join us for this 4-week series, which will begin on SUNDAY, JUNE 7 & 9:30 PST. For more information about LifeTrack, and how to participate, please contact the church office at 408-241-7635. Or you can email office@scfbc.org Or simply register for the online course below.