First Baptist Music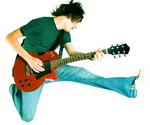 Santa Clara First Baptist Church has recorded many original songs and new arrangements of popular songs. Below is a collection of our recordings for your own personal use.
Click on

to listen to the song using the built in player or click on

to download the song's MP3 file to your computer.
---
Edge Christmas

Released December 2009

Playing: O Come, O Come Emmanuel

| | | | |
| --- | --- | --- | --- |
| | | 1. | O Come, O Come Emmanuel |
| | | 2. | Hark the Herald |
| | | 3. | God Rest Ye Merry Gentlemen |
| | | 4. | Angels |
| | | 5. | O Come All Ye Faithful |
| | | 6. | What Child Is This |
| | | 7. | One Small Child |
| | | 8. | Sweet Little Jesus Boy |
| | | 9. | Because You Came |
| | | 10. | Joy to the World |
| | | 11. | Happy Christmas |

A collection of popular Christmas songs arranged by the Edge Worship band, recorded live in December 2008 at the Edge Worship service at Santa Clara First Baptist Church. This CD is available at the church for $5. Contact the church office.

 Sharon Cintas: Vocals / Acoustic Guitar
 Les Hawkins: Bass
 Jun Lagmay: Electric Guitar
 Mike Knappe: Electric Guitar
 Jesse Hawkins: Drums
 Jerry Cintas: Piano
 Diana Dodson Lee: Flute
 Lisa Nguyen: Viola


"Because You Came" written by Sharon Cintas
CD Artwork by Amy Victorson
Edge Live

Released February 2005

Playing: Open Skies

| | | | |
| --- | --- | --- | --- |
| | | 1. | Open Skies |
| | | 2. | O Praise Him |
| | | 3. | Take These Hands |
| | | 4. | The Beauty of Simplicity |
| | | 5. | We Sing Praise |
| | | 6. | Reign |
| | | 7. | I Surrender |

This recording of the Edge Worship service at Santa Clara First Baptist Church on February 13, 2005 is a collection of some of the most requested songs at the time. The I Surrender track is a bonus track that was recorded in the studio.

 Sharon Cintas: Vocals / Acoustic Guitar
 Les Hawkins: Bass
 Jun Lagmay: Electric Guitar
 Jesse Hawkins: Drums
 Jerry Cintas: Piano
 Diana Dodson Lee: Flute


"Take These Hands" written by Sharon Cintas
"We Sing Praise" written by Les Hawkins

Edge 5:30

Released January 2003

Playing: Lord I Lift Your Name on High

| | | | |
| --- | --- | --- | --- |
| | | 1. | Lord I Lift Your Name on High |
| | | 2. | You Alone |
| | | 3. | Jesus You are the One |
| | | 4. | I Will Offer Up My Life |
| | | 5. | Gracious and Compassionate |
| | | 6. | Hungry |
| | | 7. | Holy Moment |
| | | 8. | King of Glory |
| | | 9. | Great and Awesome God |
| | | 10. | Lord You Have My Heart |
| | | 11. | To Him Who Sits on the Throne |
| | | 12. | Agnus Dei |
| | | 13. | Your Love Reaches Me |
| | | 14. | Joy |

Live recordings from the Edge Worship service at Santa Clara First Baptist Church in 2003.

Sharon Cintas: Vocals / Acoustic Guitar
Les Hawkins: Bass
Mike Knappe: Electric Guitar
Scott Christian: Drums

Edge Worship

Released June 2002

Playing: Free

| | | | |
| --- | --- | --- | --- |
| | | 1. | Free |
| | | 2. | Hear This Cry |
| | | 3. | Empty Me |
| | | 4. | I Will Worship You |
| | | 5. | At the Feet of Jesus |
| | | 6. | You Are |
| | | 7. | Mystery |

The first recordings of the Edge Worship band from the Polyblend Studios in Sunnyvale. This CD mostly contains original music written by the band.

Sharon Cintas: Vocals / Acoustic Guitar
Les Hawkins: Bass
Mike Knappe: Electric Guitar
Scott Christian: Drums


"Hear this Cry" written by Sharon Cintas
"Take These Hands" written by Sharon Cintas
"I Will Worship You" written by Sharon Cintas
"At the Feet of Jesus" written by Sharon Cintas
"You Are" written by Sharon Cintas
"Mystery" written by Mike Knappe