Board of Deacons
Our Church Board prayerfully sets the vision and direction of Santa Clara First Baptist Church. Board members serve 2-year terms. You can get to know them better in the text below.
---
Gary Dong

Board President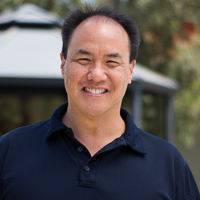 Gary Dong grew up in Sacramento and accepted Jesus as his personal Savior in the first grade Sunday school class at Chinese Grace Bible Church in Sacramento. His earlier years in ministry include ushering in 5th grade, High School Youth Board President, life-guarding for High School and Jr. High Camps, leader and mentor for College ministries, transportation ministries, and team leader for Mexico Outreach. His more recent experiences include being a founding member and deacon for a church start-up, Audio Ministry Director for a mega-church, strategic outreach, various video ministries, Mexico Missions, and Pastoral Search Committee.
Gary moved to Santa Clara after he married his beautiful wife Karen in 2012; the wedding was officiated by Pastor Richard Reaves. Gary became a church member shortly after coming to Santa Clara First Baptist Church and in addition to being on the Board is currently serving in the Sound & Streaming Ministry, a Life Group Leader, and Bethlehem Parking & Safety Coordinator. Gary is a Packaging Engineer for an e-commerce company that started out selling books. When he finds a spare moment from work and church, you can find him cooking, hiking, or traveling with his wife.
---
Matt Stephens

CFO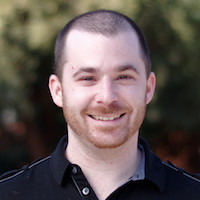 Matt Stephens has been attending this church since before he had a say in the matter. As a baby, he was dedicated to this church and to The Kingdom. Although he studied for 7 years away from the Silicon Valley, he returned home after school and once again became involved in church ministry and leadership and now attends alongside his wife Kimberly and Son Joshua.
Matt served on the final iteration of the old governance system's "Board of Deacons," continues to serve in the worship team and also served for many years in youth ministry.
Matt believes strongly in the power of study, reflection and application of scripture. The same bible has been used for generations and still offers relevant teaching, guidance and encouragement for our everyday life. The message is sacred, but the methods are flexible. Matt believes that if we lift Jesus up, and preach the simple news of the gospel, Jesus will inevitably draw people to him. He is honored to be a part of the planning of the future of Santa Clara First Baptist Church.
---
Yessica I. McLenegan

Communications Director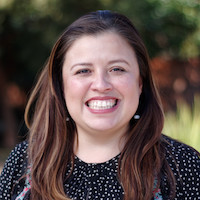 Yessica I. McLenegan is a Licensed Marriage and Family Therapist who has been practicing in San José since 2010. She works with individuals, families, teens, and couples on issues related to depression, anxiety, communication, and stress. She graduated from Santa Clara University with a Masters Degree in Counseling Psychology and Latino Psychology emphasis. She has been attending SCFBC since 2015 and serves on the worship team and as a youth mentor. Yessica became a Christian at the young age of 6 while at Sunday school with her favorite teacher. She grew up attending Spanish speaking church and has been able to serve in using both her two languages Spanish and English. She enjoys helping others and has a special heart for working with the Latino community. Yessica enjoys spending time outdoors, hiking, running, traveling, and volunteering with animals. Yessica has been happily married to her husband Tim McLenegan since 2015 and both serve at SCFBC.
---
Maryann Fairall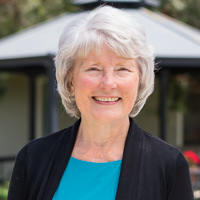 MaryAnn was born and raised in San Francisco, California. She accepted the Lord and was Baptized at the age of twelve at Temple Baptist Church. She received her BA from SFSU and was married two years later. She became a member at Santa Clara First Baptist Church when she and her husband moved to Saratoga where they raised their two children. They served the church is various capacities.
Following her husband's passing MaryAnn worked for American Baptist Homes as a Resident Services Director and for Abbot Labs as a Management and Professional Development Manager/Trainer in North America. She has served the Lord at SCFBC in many different capacities: Sunday School Teacher, Manna Hospitality Group, Diaconate, Church Clerk. Currently, along with serving on the Board, she is a member of Power Up and is co-leader for WOW (Women of the Word) Life Groups. She is excited to see the Lord growing people in their daily walk with Him.
---
Lisa Robinson

Secretary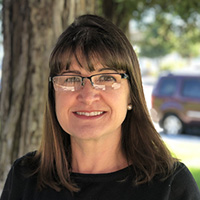 Lisa Robinson was born and raised in Ohio. She accepted Christ as a freshman in high school, was baptized, and became active in her church, Ellet Grace Brethren Church. It was there that she met and later married her husband, Joel.
She and Joel moved to Santa Clara in 1998. They became members of Santa Clara First Baptist Church in early 1999. Together they served in youth ministry, led a home bible study, and participated in/lead several mission trips to Costa Rica. Lisa previously served as Deacon of Mission, taught Sunday School, and was a member of the Pastoral Search Committee. She is also a past President of the Redwood Glen Camp Board of Directors, an SCFBC mission partner. She currently volunteers as part on the AV Team and the Bethlehem Parking & Safety Team. Lisa is the Director of Marketing and Communications for a PreK through Grade 8 independent school. Away from work and church, Lisa (and Joel) can often be found watching their sixth grader play soccer, walking, hiking, or biking.