VBS 2022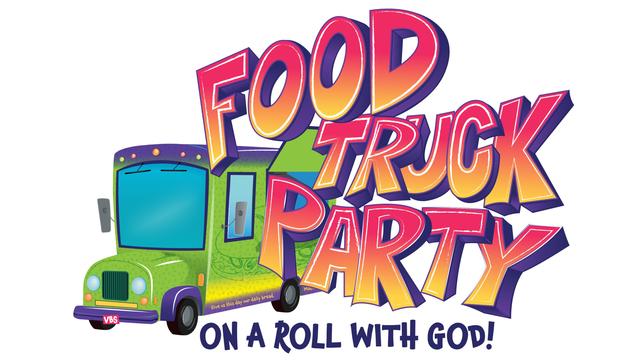 FOOD TRUCK PARTY 2022
Sundays, July 10, 17, 24, 31 and August 7
from 11AM - 11:50 AM and 2pm - 3:30pm
This Vacation Bible School invites children to pray as Jesus teaches us in Matthew 6:11: "Give us this day our daily bread." These words serve as a reminder that everything we have comes from God - and that it's by turning to God in prayer that all of our daily needs are met. Through stories in both the Old and New Testaments, this VBS opens kids' eyes to the countless ways God provides, loves, and cares for us while inviting them to join God in providing, loving, and caring for others.
At Food Truck Party VBS, you will enjoy an interactive, energizing, Bible-based good time as they get on a roll with God at different stations: Music, Science, Art, Games, and Snacks Stations.
Join us as we get on a roll with God at the Food Truck Party!
Day: Every Sunday at Santa Clara First Baptist Church
Date: July 10 through August 7
Time: From 11:00-11:50am & 2:00-3:30pm
Ages: 11am VBS PreK - G6, 2pm VBS All Ages: Children, Youth, and Adults.
VBS Has Two Times
We offer morning and afternoon Vacation Bible School. Sign up is FREE! Indicate in Note section if you want to sign up for both morning and afternoon VBS or just one.
MORNING VBS @11-11:50am. Bible Stories, Music, Art, and Games.
AFTERNOON VBS @2:00-3:30pm. Bible Stories, Music, Science, Games, and Lesson-based Snacks.
Parents & Guardians, we welcome you to join our SCFBC Sunday worship service from 10:30am to 11:50am at the same time as VBS. Afterwards, please join us for lunch at our Sunday Grill in the park!

For our 2pm VBS program, parents can join an adult discussion group in the sanctuary lobby.
VBS Closing Celebration and Volunteer Appreciation: Sunday, August 14 at 10:30 A.M