Small Groups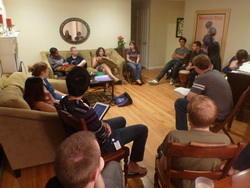 We desire for everyone who comes to Santa Clara First Baptist Church to not only participate in large group environments (e.g. the Sunday morning worship service) but also to be actively involved in smaller (life) groups. Relationships are a priority at First Baptist, and though relationships can be messy, we believe small groups can offer the benefits of authentic community: encouragement, accountability, connection and fun. Ultimately, we believe sustaining life change occurs through small groups. Here are the top reasons why:
You will have the opportunity to study the Bible together and discuss the issues and challenges of life. Small groups offer a good place to ask questions.
You will have the opportunity to develop deeper friendships with other people who will walk beside you on your journey as a follower of Christ.
You will have the opportunity to find some answers and support regarding the needs in your life through group prayer.
You will have the opportunity to share what's going on...what's good, what's bad, and how you need help in a time of change or crisis.
You will have the opportunity to demonstrate the New Testament example of community. Early followers of Christ gathered in homes, shared meals, read the Word, prayed, worshiped and helped one another (Acts 2:42-47, 5:42).
You will have the opportunity to serve others by bearing their burdens, meeting their needs and stepping out beyond your own issues.
You will have the opportunity to move from simply being a spectator to being a participant.
A small group consists of 8 to 12 individuals who have committed to meet weekly for 3 months. In spite of our hectic and busy lifestyles, we carve out time each week to be with other people. We offer many different types of groups to fit your needs.


How do I join a Small Group?
The best way is through our Life Group page. Three times a year we have signup months to choose a new life group and participate with that group for three months. The signup months occur in January, May, and mid August each year. You are also always welcome to join a life group at any time.