One Great Hour of Sharing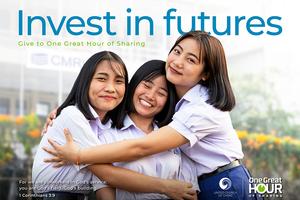 Barbara Chicks
August 2020
Investing in Futures
Planting and Watering Seeds to Nurture God's Creation in Oregon and West Virginia.
Two ministries that received One Great Hour of Sharing (OGHS) grants from the American Baptist Home Mission Societies on behalf of American Baptist Churches USA are planting and watering seeds for God to nurture (1 Corinthians 3:5-9) while helping children and teens as well.
In 1999, American Baptist pastor and Keetoowah Cherokee descendent Randy Woodley, and his wife, Edith, of Shoshone/Choctaw heritage, were given the vision of a farm and a teaching-learning and cultural renewal center as a vehicle for their indigenous ministry: The Eloheh Indigenous Center for Earth Justice. The Woodleys eventually began Eloheh Seeds (elohehseeds.com), a nonprofit organization that sells seeds online to help support their farm and ministry center in Oregon. Eloheh is the Cherokee word for "harmony" — the very thing the Woodleys are working to restore among God, earth, and humanity.
While the non-genetically-modified seeds are only part of the ministry of Eloheh Center, the seeds are the foundation of the farm. The Woodleys have preserved important rare seed stock, and have donated a portion of the fruits and vegetables they grow to community groups, such as a pre-school on the local Indian reservation, and a feeding program for homeless teenagers in Portland.
The First Baptist Church of St. Albans, West Virginia, serves middle school children through the STAR (Strengthening, Transforming, Achieving, Revitalizing) Club, which is dedicated to the encouragement, protection, and edification of middle school students through academic tutoring, physical fitness, and nutrition, in addition to the development of personal, moral and social skills.
"Growing Food — Changing Lives: "Teaching Kids to Grow Food and Live Healthy" is the STAR Club's agricultural focus. Youth learn about gardening through the Junior Master Gardener program, in partnership with Life and Master Gardeners from the church and community, the West Virginia State University Extension Services, and 4-H.
In its first four months, students showed significant improvement in attitudes toward their education and took the initiative to complete their homework and develop more positive relationships with peers.
When you donate to One Great Hour of Sharing, you are investing in the future.
"For we are co-workers in God's service; you are God's field, God's building." 1 Corinthians 3:9
---